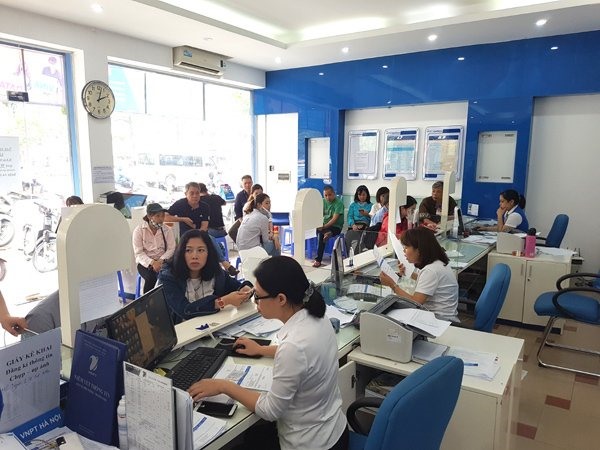 Mobile users wait to take photos at a Vinaphone service store in Hà Nội in April 2018. — Photo vietnamnet.vn
Viet Nam News
HÀ NỘI — The Ministry of Information and Communications (MoIC) has suggested lifting a controversial requirement for mobile phone users to register their photos in a stunning policy turnaround just six months after the regulation was put into force.
The MoIC, under the leadership of new acting minister Nguyễn Mạnh Hùng, released a draft decree to terminate the regulation which required all mobile phone users to register a portrait photo to their service providers by April 24, 2018.
The idea was meant to help the Government manage mobile users, said the MoIC at the time, despite mounting criticism of personal invasion and concerns of personal information leaks.
However, there seems to have been a u-turn.
It said in the draft decree that in order to guarantee the personal information provided by users, there should be an information cross-check between service providers and a citizen identification database managed by the Government.
The MoIC said that only 16 countries around the world were currently enforcing mobile user management policies that allowed communications companies to approach and connect with government databases. They include China, India, Pakistan and Thailand.
Việt Nam had yet to develop a digital database to let network service providers confirm the accuracy of their users' information, said the MoIC.
It made the photo registration "meaningless" while stirring a negative response, the ministry explained.
The annulment, if approved, could save up to 38 million mobile users who are yet to update their photos the hassle of doing so, the ministry said.
In April, millions of mobile users had to line up at their providers' crowded stores and spend hours taking photo portraits for their user profiles, or face the threat of disconnection. — VNS
Mobile users no longer need to register profile pics: MoIC have 475 words, post on vietnamnews.vn at October 2, 2018. This is cached page on Konitono.News. If you want remove this page, please contact us.