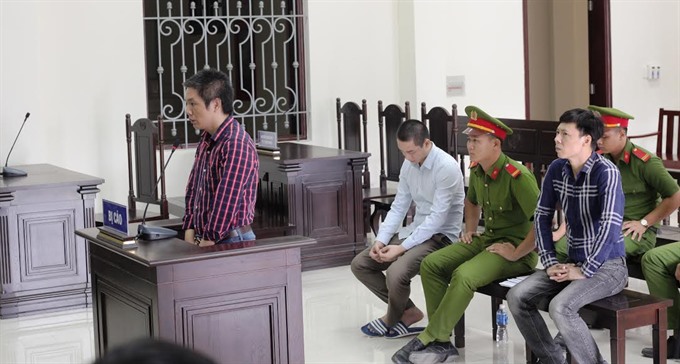 Three men who got a luxury car smuggled from Cambodia receive long jail terms at their trial in Tây Ninh on Sept 18. VNA/VNS Photo Thanh Tân.
Viet Nam News
HCM CITY – Three people who got a luxury car smuggled from Cambodia to HCM City and forged its papers have received stiff prison sentences.
The Tây Ninh Province People's Court on Tuesday sentenced Nguyễn Đắc Tuyên, 41, of Hà Nội to 16 years in jail.
Two other men, who conspired with him and abetted him in the criminal acts, Phùng Viết Đông, 38, and Phùng Tuấn Anh, 29, got 14 years apiece.
They were charged with smuggling and forging seals and documents of official agencies.
According to the indictment by the province People's Procuracy, on April 20, 2015, law enforcement authorities caught the three in a Lexus RX350 with a fake Cambodian number plate as they were travelling from HCM City to Hà Nội.
The trio confessed that Tuyên had asked Đông and Anh, brothers, to smuggle a luxury car at a low price from Cambodia to Hà Nội.
While Đông and Tuyên were responsible for buying the car and making the fake plates, Anh faked the car's papers.
A day earlier they had gone to a garage in Cambodia and bought the car for US$39,000 and struck a deal with the seller to deliver it to HCM City.
Tuyên went to Maximark Cộng Hoà Supermarket in HCM City's Tân Bình District to take delivery the day they were caught by the police.
The smuggled car, a 2013 model, costs much more in Việt Nam than in Cambodia due to taxes and fees.
It has been seized by the authorities. – VNS
Court puts away car smugglers for long time have 435 words, post on vietnamnews.vn at September 19, 2018. This is cached page on Konitono.News. If you want remove this page, please contact us.