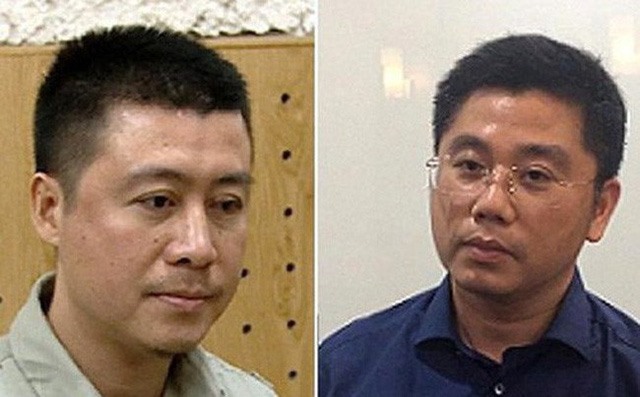 Phan Sào Nam and Nguyễn Văn Dương, ringleaders of a VNĐ10 trillion online gambling ring. — Photo courtesy of the Public Security Ministry
Viet Nam News
PHÚ THỌ — The case file on a massive police-backed online gambling ring worth VNĐ9.8 trillion (US$426.3 million), involving high-ranking police officials has been completed and submitted to the court, the criminal investigation unit of Phú Thọ Province said on Wednesday.
The northern province's police are asked to bring to court charges against 92 people, facing a total of seven criminal offences, from organising gambling activities and purchasing fake invoices to money laundering, bribing and abuse of power. Twelve others are still on the run and will be brought to trial later, the police said.
The ringleaders of the online gambling case (held via the card game rikvip/tip.club) were identified as Phan Sào Nam, CEO of VTC Online, a major tech company, and Nguyễn Văn Dương, chairman of CNC, a private high-tech security solutions company in Hà Nội and later, chairman of infrastructure development company UDIC.
Nearly 43 million accounts were created to join the gambling ring, bringing in revenues of nearly VNĐ10 trillion.
After paying for winners' prizes, taxes, employees' salary and operation expenses to the tune of VNĐ 3.7 trillion, Phan Sào Nam received benefits of VNĐ1.47 trillion and Nguyễn Văn Dương received VNĐ 1.65 trillion. Hoàng Thành Trung, Phan Anh Tuấn, and Lê Văn Kiên, currently on the run, split between themselves VNĐ1.57 trillion.
VNĐ1.34 trillion from gamblers and other people involved in the ring was confiscated by the police.
The police said they have gathered sufficient evidence to pin charges of power abuse on Phan Văn Vĩnh, former Lieutenant General and head of the General Police Department (Ministry of Public Security), and Nguyễn Thanh Hoá , former head of the Hi-tech Crimes Police Department, both of whom were alleged to have received bribes from Dương to help shield the country-wide gambling ring from investigation.
The Ministry of Public Security said that due to the complex nature of the case, investigation will be expanded in the second phase, "showing the commitment of the police force to uphold justice and combat crimes." — VNS
High-ranking police officials charged with power abuse in massive online gambling ring have 587 words, post on vietnamnews.vn at July 19, 2018. This is cached page on Konitono.News. If you want remove this page, please contact us.