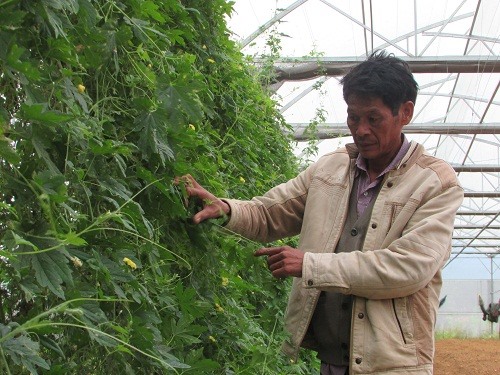 Localities need to set up plans for hi-tech agricultural areas in accordance with regional growing and climate conditions.– Photo baodansinh.vn
ĐÀ NẴNG – Localities need to set up plans for hi-tech agricultural areas in accordance with regional growing and climate conditions.
This is the solution that delegates emphasised at an agriculture forum with the theme "High-tech application in agricultural production adaptation to climate change in the south central coastal areas". The forum was held on Friday in the central city of Đà Nẵng by the National Centre for Agricultural Extension and the Đà Nẵng Department of Agriculture and Rural Development.
Knots removal
Hồ Huy Cường, director of the Agricultural Science Institute for Southern Coastal Central Việt Nam, said that the area had ​​4.42 million hectares of natural land, of which agricultural land accounts for 18.7 per cent. The region has two distinct rainy and dry seasons and rainfall varies from 500 to 2500mm annually.
The area is affected by typhoons and heavy floods, causing great damage to local farmers' crops. In order to reduce vulnerability to climate extremes and disasters, high-tech agricultural production is essential. However, the application of such technology was still limited, he said.
Đặng Văn Hồng, director of the Đà Nẵng Centre for Agriculture and Forestry Extension, said that in the central city, high-tech agricultural manufacturing focused mainly on the application of technical advances in planting and aquaculture.
The application of information technology, automation, biotechnology and advanced farming processes in agricultural production to produce quality agricultural products was still low, he said.
Research and high-tech application was not high, application models are unsustainable and unscientific and do not meet the requirements of urban markets.
Hồng added that in recent years, Đà Nẵng had made great efforts in setting up preferential policies to support high-tech agriculture. However, accessing the policies remains difficult for farmers, especially accessing investment land.
In addition, representatives from different localities shared difficulties, such as the fact that high-tech manufacturing needed much investment but carried many risks, so investors were wary. Local farmers' capacity for accessing science and technology was weak.
Setting up high-tech agricultural areas
Trần Văn Khởi, acting director of the National Centre for Agricultural Extension, said that localities needed to develop high-tech agricultural areas suitable for each province and region.
Dương Hoa Xô, deputy director of the HCM City Department of Agriculture and Rural Development, emphasised that it was important to plan suitable areas for high-tech agriculture.
"We should not invest widely. We should plan the areas that are least affected by rainstorms instead," he said.
While setting up plans, infrastructure measures should be considered, such as fencing to minimise flooding.
Xô said that capital was the most difficult problem for most people who want to develop high-tech agriculture. To help them, the bank should recalculate loans based on the products they would create in the future, not the land that they mortgaged.
Hồ Huy Cường added that biotechnology application in agricultural production was necessary.
"Crossbreeding technology with the application of molecular biotechnology and biotechnological multiplication technology is the preferred solution," he said.
Cường proposed building models of seedling demonstrations so that farmers can learn from experience and then expand production and develop a policy of supporting seedlings and other support programmes. – VNS
Experts find solutions for high-tech agriculture have 598 words, post on vietnamnews.vn at May 7, 2018. This is cached page on Konitono.News. If you want remove this page, please contact us.