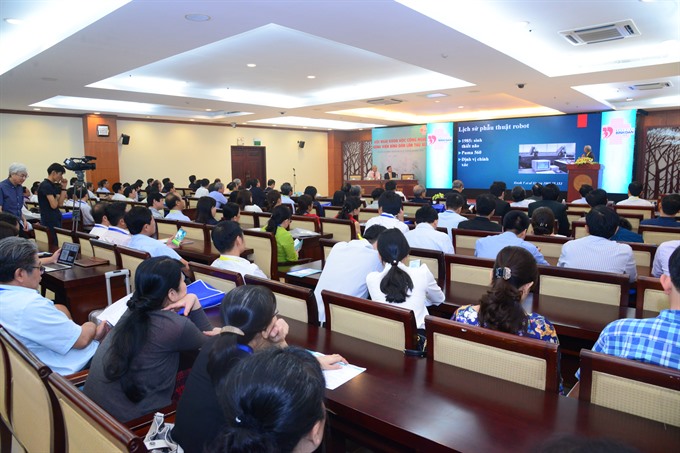 Bình Dân Hospital's annual scientific conference highlighted the latest high-tech techniques in surgery and medical treatment. —Photo courtesy of Bình Dân Hospital
Viet Nam News
HCM CITY — High-tech treatments have become an efficient coworker for doctors in diagnosis and treatment in Việt Nam, Trần Vĩnh Hưng, the director of Bình Dân Hospital, said at a conference held in HCM City on Saturday.
Speaking at the opening ceremony of the hospital's annual scientific conference, Hưng said that progress in treating disease had had a significant improvement on the survival rates and the quality of patients' life.
The hospital has been a pioneer in Việt Nam in using robots in minimally invasive surgeries to treat 14 kinds of disease and cancer.
Through a magnified 3D high-definition vision system, surgeons can direct the robot's hands to bend and rotate 540 degrees, far more than a human hand can.
Dr Vũ Lê Chuyên, chairman of the Việt Nam Urology and Nephrology Association, said that 87 patients with prostrate cancer have had surgery with robots assisting since 2016, the year the hospital began using robots for surgery.
Within one year after implementation, nearly 300 patients had benefited from robotic surgery.
Moreover, many advanced techniques in endovascular intervention, plastic surgery, and endoscopy have been applied in many hospitals nationwide, including Bình Dân Hospital.
"Applying advanced techniques to improve diagnosis and treatment should be done now and in the future," Hưng said.
Hưng said that scientific and technological progress had helped doctors and experts in the health sector exchange the latest medical knowledge with local and overseas medical staff.
As many as 106 presentations were given at the conference, including topics related to urological problems, men's diseases, emergency aid, cancer, and the latest techniques in imaging diagnosis, anaesthetics and recovery. —VNS
Robotics, high-tech treatment improves medical care in VN have 513 words, post on vietnamnews.vn at April 9, 2018. This is cached page on Konitono.News. If you want remove this page, please contact us.