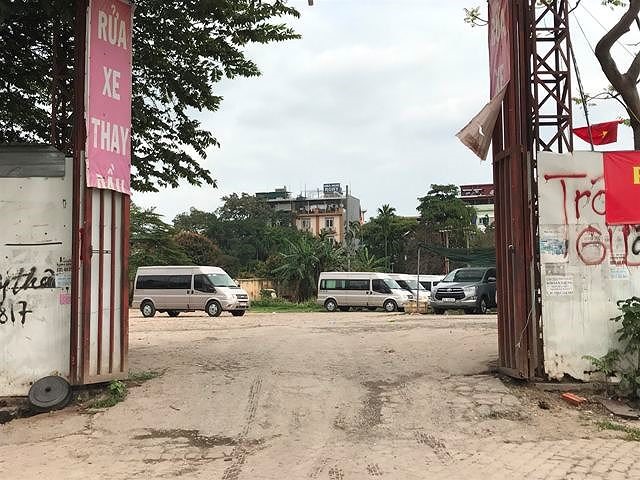 Illegal car parking spot in Mạc Thái Tông Street of Cầu Giấy District. — Photo vietbao.vn
Viet Nam News
HÀ NỘI — There are more and more illegal parking spots for cars and motorbikes in the inner city of Hà Nội, reported the Kinh Tế và Đô Thị (Economy & Urban).
The illegal car parking spaces are located on empty land of awaiting construction areas, desserted argicultural land areas and in sidewalks, streets and residential areas.
Notably, the illegal parking spots have been blatantly existing despite many fines being dished out.
According to urban management experts, one of the main reasons for the problem was weak managament of authorised agencies.
A case of car parking space in Mạc Thái Tông Street of Cầu Giấy District was one example.
The district's transport inspection told the paper that since earlier this year, the car parking spot was fined twice but it has been still illegally used.
Another spot in Trần Hưng Đạo Street, Hoàn Kiếm District has been operating illegally since January. It was punished twice.
When asked about an illegal car parking spot in a street in central city, vice chairman of Phan Chu Trinh Ward's People's Committee Lê Trọng Sỹ said that "the ward's People's Committee had not had any written papers asking the local police to check and require the car parking owner to get licence".
This kind of management seemed to be popular in wards and districts in Hà Nội.
Phan Trường Thành, an expert on urban management, said: "This kind of urban management likes to accept violations."
To justify for existence of hundreds of illgal vehicle parking spots in the inner city, management agencies said that was due to vehicle parking space shortage.
However, urban and transport management experts did not agree with the justification.
"The demand of parking vehicles of people was real and increasing. But it should be considered the urban managment issue", said Nguyễn Mạnh Thắng, a transport expert.
In fact, many illegal parking spots were not only keeping vehicles but also become warehouses and illegal inter-provincial coach stops which were beyond management of local governments, Thắng said.
The municipal government has planned to limit personal vehicles in the inner city to reduce environment pollution and traffic congestion but the existence of illegal vehicle parking spots might refrain the plan, he said.
Of course, the huge illegal income was not certainly paid to the State Budget or used for re-investing the infrastructure.
The reality was that authorised agencies including city's transport department, police and local government at ward and district levels have been dodging the responsibilities.
Chief Inspector of Hà Nội Department of Transport Trần Nhật Quang said "to totally solve the problem, it needed to clarify responsibilities of relevant management agencies".
"It needed clear assigments to stop dodging responsibilities of management agencies", said Quang.
The city's transport department was designated for managing and solving violations of licensed vehicle parking lots while wards and districts' governments were in charge of managing public lands.
This was task of land management.
"If local governments did well the task, there was no chance for illegal parking spots," Quang said. — VNS
Management agencies must be taken responsibility of illegal car parking lots have 594 words, post on vietnamnews.vn at March 22, 2018. This is cached page on Konitono.News. If you want remove this page, please contact us.