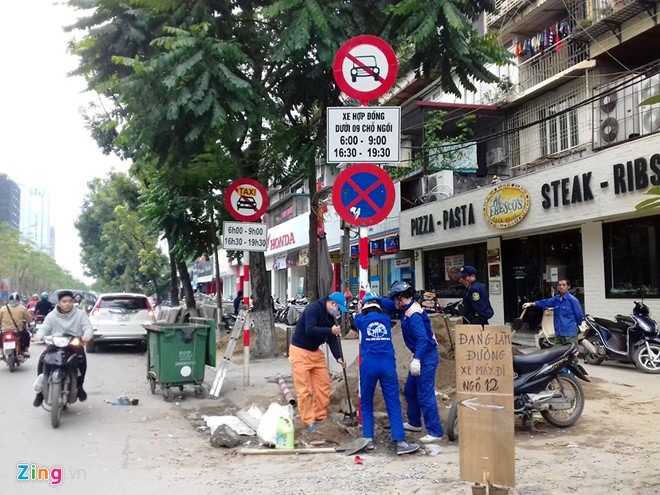 Workers set up a car ban pole on Giảng Võ Street, Hà Nội. – Photo zing.vn
Viet Nam News
HÀ NỘI — Hà Nội has decided to ban Uber and Grab cars on 13 streets during rush hours in an effort to tackle increasing traffic jams.
The city's Department of Transport has, so far, installed signs prohibiting taxis and nine-seater commercial cars and smaller ones, including those of popular transportation networks Uber and Grab, on nine out of 13 streets.
The ban is due to go into effect from Thursday.
Accordingly, commercial cars will not be allowed to run between 6 and 9am and from 4.30 to 7.30pm.
The streets on which the cars are banned are Hoàng Hoa Thám, Mai Xuân Thưởng, Giảng Võ and Láng Hạ, as well as Lê Văn Lương, Trường Chinh, Khâm Thiên and Hàng Bài, in addition to Phủ Doãn, Xuân Thủy, Cầu Giấy, Giải Phóng and the Chương Dương Bridge on the lane from Long Biên District to the city centre.
Department director Vũ Văn Viện said the ban was aimed at reducing the number of personal vehicles going into the centre during rush hours, helping to alleviate the ever-worsening traffic.
Viện added that the traffic police would be able to recognise Uber and Grab cars violating the ban via specific logos stamped on them.
The Ministry of Transport is set to issue regulations forcing Uber and Grab cars to put the logos on the car bodies or doors.
Viện also said the ban will not be permanent, and is due to be lifted once traffic on a particular street improves. If it doesn't improve, more bans against cars will be applied to resolve congestion. — VNS
Uber, Grab cars banned on 13 streets have 473 words, post on vietnamnews.vn at January 11, 2018. This is cached page on Konitono.News. If you want remove this page, please contact us.