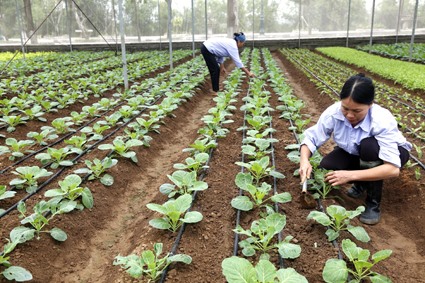 Farmers take care of vegetables planted in a greenhouse in Ninh Bình Province's Yên Khánh District. — Photo baoninhbinh.org.vn
Viet Nam News
NINH BÌNH – Hi-tech agriculture has helped Ninh Bình farmers earn more profit even though they have to invest more in cultivation, local reports say.
In the northern province's Yên Khánh District, 40 households in Khánh Hồng Commune joined in a 2014 programme to grow vegetables with technical support from the provincial Hi-tech Application Centre for Agriculture.
Under this model, vegetables and fruit were planted in glasshouses with automated irrigation systems and the cultivation confirmed to VIETGAP (Vietnamese Good Agricultural Practices) standards.
The model has earned farmers profits of VNĐ90-100 million ($3,960-4,400) per hectare, much higher than the VNĐ50-60 million ($2,200-2,640) they would earn normally.
Đinh Quốc Trị, a local farmer who participated in the programme said, "The model requires farmers to invest much more in the initial stages, but our harvest better meets the demand of customers for clean and safe vegetables and fruits."
Higher prices for their produce also help farmers increase their earnings, he added.
The model has been applied in several communes with similar impacts.
In Khánh Hồng Commune, several dozen hectares of rice fields were turned to planting vegetables and fruit, including cucumber, zucchini, and bitter melon. In Khánh Mậu Commune, farmers planted spinach instead of rice. In both communes, farmers earned revenues of VNĐ100-150 million ($4,400-6,600) per ha.
In the communes of Khánh Thủy, Khánh Công and Khánh Cường, the hi-tech agricultural model has been applied to cultivating medicinal plants.
As a result of these efforts, the value of agricultural production in the province reached VNĐ108.3 million ($4,765) per ha in 2016, about VNĐ3.5 million ($154) per ha higher than in 2014.
Sustainable aims
Officials say the province aims to have a sustainable hi-tech agriculture sector in place by 2020. The target is included in the provincial master plan for agricultural development by 2020 with vision until 2030.
Trần Ngọc Diệp, head of the Agriculture and Rural Development division of Yên Khánh District said applying the hi-tech agricultural model is seen as an important step in restructuring the sector and ensuring its sustainable development.
"It not only makes local produce more competitive in the market, but also raises farmers' incomes while providing quality produce to customers," he said.
The pilot models are expected to lay the foundation for developing a sustainable hi-tech agriculture sector, he added.
The province has targeted an agricultural production value of VNĐ130 million ($5,720) per ha by 2020.
Đỗ Văn Miền, deputy head of the provincial Agriculture and Rural Development Department, said that to achieve that goal, the province needs to adjust its policies to meet real demand.
The province should also create favourable conditions for businesses to join hands in developing hi-tech agriculture, he said. — VNS
Ninh Bình farmers reap hi-tech agriculture benefits have 675 words, post on vietnamnews.vn at October 28, 2017. This is cached page on Konitono.News. If you want remove this page, please contact us.