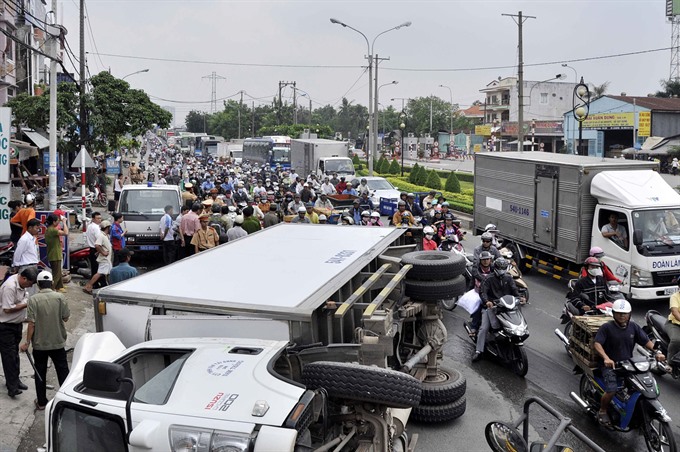 An overturned light truck on the approach to Bình Triệu Bridge in HCM City's Thủ Đức District. — VNA/VNS Photo Mạnh Linh
Viet Nam News
HCM CITY — The chairman of HCM City People's Committee Nguyễn Thành Phong instructed the municipal Department of Transport and relevant authorities to make studies for banning all light trucks during the day time in an effort to ease traffic congestion.
"This is a necessary solution because traffic congestion is happening throughout the day, not only during peak hours, especially at the city's enterences, major roads, Tân Sơn Nhất Airport and Cát Lái Port,"  Phong said at a Friday meeting to review traffic and safety for the first six months of this year.
"Relevant authorities must continue to properly guide traffic routes, install more traffic lights, and arrange traffic police to ease traffic congestion," he added.
Phong also asked authorities to speed up projects to collect car parking fees, to set up walking streets in downtown and waterway taxis on the Sài Gòn river, to build underground car parking areas at Lê Văn Tám Park and Trống Đồng Stage, to rearrange bus stations and to review activities of Uber and Grab in the city.
The chairman also requested departments and industries to accelerate automatic fee collection for new roads.
"The Department of Planning and Industry must carefully consider parking places when granting new business licences and the Department of Construction must not grant licences for high-rise buildings and apartments in areas that haven yet been invested for infrastructure development," he said.
Phong instructed all district people's committees to strictly control the traffic situation in their localities and arrange parking places for schools and hospitals in ways that can serve local residents effectively.
"Light trucks move a lot at noon to serve restaurants, hotels and workshops all around the city and the limitation of light trucks is a must," said Bùi Xuân Cường, director of the transport department.
Another reason for the worsening traffic situation is huge number of new vehicles.
"Every month, the city has around 30,000 new vehicles and cars, accounting for 15 per cent," said Lieutenant Colonel Huỳnh Trung Phong, head of the HCM City Police's Roads and Railways Traffic Police.
"Because of limit time for travelling, trucks often causes congestion. It is hard to turn and they often cause congestion," he added.
He also noted that cars working for Uber and Grab should have a limited operation time.
"They also partly contribute to congestion," he added.
According to a report from the HCM City Traffic Safety Committee, for the first six months of this year, there were 334 traffic accidents, killing 62 and injuring 227 people.
There were 10 fewer accidents, eight fewer deaths and 14 fewer injuries compared to the same period last year.
By the middle of May, the city had eight million vehicles, including 700,000 trucks, buses and cars. — VNS
HCMC to ban light trucks in daytime have 812 words, post on vietnamnews.vn at August 7, 2017. This is cached page on Konitono.News. If you want remove this page, please contact us.