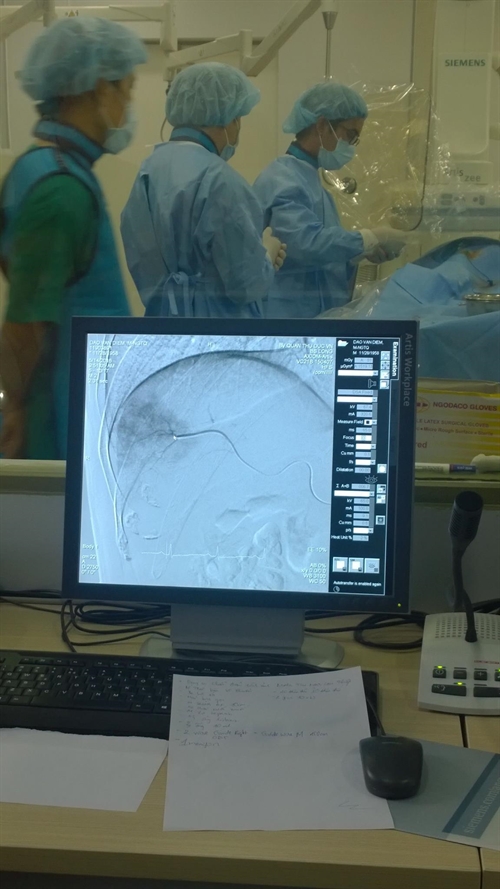 Thủ Đức District Hospital doctors perform transarterial chemoembolization (TACE) for the first time to treat a patient with a malignant liver tumour. Photo Thủ Đức District Hospital.
Viet Nam News
HCM CITY — District-level hospitals in HCM City are now using more advanced techniques and treatment, often performing at a level that matches city-level hospitals.
The Thủ Đức District Hospital, which is considered only the district-level hospital in HCM City with the same quality as city-level hospitals, has successfully performed for the first time the non-surgical treatment, transarterial chemoembolization (TACE), on a patient with a malignant liver tumour.
The 58-year-old patient was hospitalised and diagnosed on May 12. During TACE, the doctors injected a chemotherapy medication into the patient's liver through a catheter inserted into a femoral artery to prevent the development of the cancerous tumour.
The procedure was carried out with a digital subtraction angiography machine worth more than VNĐ 26 billion (US$1.2 million), which the hospital bought in early May.
The patient is expected to be discharged from the hospital today.
"When people benefit from high-tech healthcare services at the hospital where they live, they won't need to go to city- or central-level hospitals, which are faced with patient overload, causing delays in treatment," said Dr Nguyễn Minh Quân, head of Thủ Đức Hospital.
He said the hospital can now offer all available therapies for patients with liver cancer.
Quân said that TACE was one of several high-tech treatments which the hospital has used for patients not only in Thủ Đức District but for those who live in nearby provinces such as Bình Dương and Đồng Nai.
The city's Department of Health said that more patients were seeking treatment at HCM City's district hospitals because of improvements made in recent years.
The number of insured patients at Thủ Đức Hospital in January increased by nearly 6.6 per cent after one month of implementing a regulation that took effect on January 1 that allowed insured patients to choose any district hospital or private health facility in their home locality.
Last year, a quality assessment conducted by the Health Department's council for quality control showed that Thủ Đức Hospital was the only district hospital that scored four out of the maximum five points on a scale that measures the quality of hospitals.
The score was similar to city-level hospitals like Paediatric Hospital No.1 and 2, Từ Dũ Obstetrics Hospital, Hospital for Hematology and Blood Transfusion and Traditional Medical Institute.
Doctors at Thủ Đức Hospital also offer training to doctors who work at ward health centres in Thủ Đức District. — VNS
High-tech HCMC treatments have 662 words, post on vietnamnews.vn at May 17, 2016. This is cached page on Konitono.News. If you want remove this page, please contact us.