11th NA reviews missions, maps out plans for next 5-year tenure
(21-03-2007)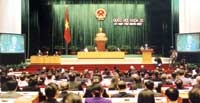 Deputies gather at the last meeting of the 11th National Assembly in Ha Noi. — VNA/VNS Photo Nguyen Dan
HA NOI — The last meeting of the 11th National Assembly (NA) opened yesterday in Ba Dinh Hall to review its work over the past five years and draw lessons for the incoming 12th NA, which will take over after general elections in May.
The opening ceremony gathered the country's leaders, including General Secretary Nong Duc Manh, President Nguyen Minh Triet and Prime Minister Nguyen Tan Dung, as well as former general secretaries, presidents and prime ministers and almost 500 deputies.
At the opening ceremony of the 11th and final meeting, NA Chairman Nguyen Phu Trong said that most of the session would be spent on reviewing the 11th NA's achievements and shortcomings, as well as lessons learned from projects undertaken in the past five years. Proposing reforms for the 12th NA would also be a priority.
In addition, the NA would hear Government reports on socio-economic changes in the past year and its plans of action for the remaining months of the year. A number of laws would be discussed and approved, while reports on the enforcement of some new laws would also be examined, Trong said.
Trong spent yesterday morning presenting a report on the work of the 11th NA in 2002-07, highlighting its legislation, supervision and foreign affairs activities.
Signs of improvement
Regarding legislation, the Chairman said improvements had been made in both the quality and quantity, thus supporting the country's international economic integration and the development of a law-governed state.
"The 11th National Assembly has passed 84 laws and codes and 15 resolutions related to the legal system, while 31 ordinances were discussed and ratified by the National Assembly's Standing Committee," Trong said.
He added that the volume of available laws and codes, which had greatly increased since the previous NA, had helped to accelerate the completion of the country's legal system.
Regarding the quality of the laws and codes passed, Trong said that legislative drafts had been better prepared to meet specific requirements of the country's renewal process and reflecting its current social reality.
The passed laws covered a wide range of social issues including culture, education, science and technology, national defence, security, foreign affairs and combating corruption.
Trong said that the NA had also focused on issuing or amending laws related to economics and trade, a rapidly growing sector playing an increasing role in many people's daily lives. This legislation related to fields including enterprise, investment, banking, financing, trading, tax reform and real estate.
In its supervising capacity, the NA introduced new methods and issues related to overseeing the Government's executive activities. The issues it focused on, such as over-stretched investment, losses in infrastructure investment and implementation of major construction projects, reflected the people's concerns at the time.
The methods of supervision included reviewing issues based on Government reports, regularly visiting related localities and performing investigations prompted by public concerns.
Based on the latest issues in supervision, the NA's deputies and committees had proposed important, practical changes in the legislative process.
In foreign affairs activities, the Chairman said that the role and position of the NA and of Viet Nam in general had been promoted among the international community through a series of diplomatic activities.
Growing bilateral relations with neighbouring countries, countries in ASEAN and in East Asia had created favourable conditions for building and defending the country. The NA also promoted its relations with the legislative bodies of countries in the European Union, the US and in central and Eastern Europe.
In addition, Trong said, the NA had sought a more thorough internationa understanding of Viet Nam's stand onsensitive and complicated issues including human rights, ethnic minority groups and democracy, through its diplomatic activities.
Weak spots
Trong also pointed out some shortcomings that had hindered the effectiveness of the 11th NA, including delays in issuing law enforcement guides, weakness in information sharing among NA committees and deputies and unspecified failures in supervision.
The reasons cited for the shortcomings were unclear definition of the responsibilities of agencies or individuals, inadequate skills and experience in supervision and, most importantly, an inadequate number of fulltime deputies for the amount of responsibility.
The Chairman also discussed lessons drawn from the 11th NA's operation, particularly the close relationships between the NA deputies and the people and the democratic basis for decisions.
Trong said that based on the example set by the 11th NA, it was important for the 12th NA to promote and increase the quality of its legislation and supervision activities along with addressing the country's key issues.
The Chairman also said that continuing to reform and renew the activities and operation of the NA and its committees toward decentralisation and an increase in authority was important for the NA to complete the missions the people had appointed it to do.
Government works
The Vietnamese Government had consistently worked hard to try to ensure that economic growth and restructuring go hand in hand with macroeconomic stability, Prime Minister Nguyen Tan Dung said yesterday as he delivered to the National Assembly a report on the performance of the Government and Prime Minister during 2002-07.
In the last five years, the economy posed a high growth rate while socio-political stability was maintained. The Government has successfully ensured food security, a stable value for the domestic currency, and a budget deficit at no more than five per cent of the nation's GDP.
Viet Nam has maintained balance in international payments, with its foreign exchange reserves now equal to 15 weeks of imports. During 1997-2001, it was only 6.5 weeks of imports.
Trade deficit was on the decline. In 2006, Viet Nam had a US$4.8 billion trade deficit, or 12.4 per cent of total exports.
Government debts and national debts had been kept in the safety zone, while the bad debt ratio in the banking sector had fallen, Dung said. The consumer price index increased by 5.1 per cent annually during the period of 2001-05, much lower than the growth rate of the economy.
The PM hailed achievement of the past government in establishing and managing goods, services and financial markets. So far, the goods and services markets had gained remarkably, with retailing and service revenue rising 21 per cent in 2006.
The stock market and financial service markets had grown quickly, with methods and instruments to mobilise capital becoming increasingly diversified and well adjusted to market principles, Dung said.
"There are 193 listed companies with a total market capitalisation of VND371.33 trillion ($23.2 billion), or 38 per cent of gross domestic product in 2006," he said.
The real estate market had been partially reformed with informal transactions reduced, particularly after the National Assembly passed the revised Land Law, the Law on Trading Real Estate and the Law on Housing.
The Prime Minister recognised that the Government and lower-level authorities had, through legal documents and their guidance, encouraged all kinds of businesses to develop.
Between 2002 and 2006, about 17,000 new enterprises were established. Small and medium sized enterprises now provide jobs for more than 90 per cent of those newcomers to the work force every year, according to the report.
Viet Nam plans to have 500,000 enterprises by 2010.
The restructuring of State-owned enterprises has also been on the right track. At the end of 2006, there were 1,940 enterprises under 100 per cent State ownership, mostly in utilities, national security, agriculture and forestry.
Dung said that the 2002-06, Viet Nam has mobilised VND1.4 trillion to invest in the economy, equivalent to 39 per cent of GDP in the period. That compared to the world's average investment of 16-18 per cent of GDP, and Asia's average at 32-35 per cent of GDP.
An opening economy
During the period 2001-05, foreign investors also committed $21 billion in direct investments, with investment inflows of $14 billion. Foreign-invested enterprises produced 16 per cent of Viet Nam's GDP by the end of 2006.
Committed FDI reached a record high in 2006, at $10 billion, double the annual average during 2001-05.
"As Viet Nam gradually opens its financial markets, the indirect foreign investment flows have been pouring in and invigorating Viet Nam's capital markets," Dung said.
The Government implemented international commitments and at the same time, strengthened management and supervision.
For the first time, Viet Nam had reached agreements with all neighbouring countries on almost all border issues, which has strengthened peace, stability and mutual development.
Viet Nam has established diplomatic relations with five more countries., according to the report.In total it now has diplomatic relations with 171 countries and has commercial relationships with 220 countries and territories.
Social advancement
The Government had also regarded social advancement and equality and the improvement of people's lives as priorities for ensuring sustainable development, Dung said.
In recent years, the Government promulgated policies along with certain programmes and projects for job creation, hunger elimination and poverty reduction. Also stressed was education and training, science and technology research, environmental protection and health care.
Per capita income was raised to US$722 in 2006 from $423 in 2001.
The Government worked to help the rural poor with education, medical services and clean water, the latter especially for ethnic minorities.
The percentage of poor households dropped by two per cent annually, a fact that was noted with praise by the international community.
Every year, 1.5 million jobs were created. As of late 2006, the unemployment rate dropped to five per cent.
Most communes nation-wide had their own medical clinics, post offices and cultural houses. Ninety three per cent of households had access to electricity and 66 per cent of families now had clean water, Dung said.
Education has also improved. New classroom buildings have replaced 65,000 make-shift classrooms, for one thing.
Meanwhile, the development of science and technology had created more competitive products and services to replace imports and provide exports.
Science and technology research had also helped modernise information processing about the environment, especially hydrography.
In terms of administrative reforms and the fight against corruption and waste, the Government approved a number of reforms up and down all levels of governance that would evolve out to 2020 and ensure better control over debilitating problems.
The Government also improved transparency and simplicity for both people and businesses in areas such as land management, construction, investment, planning, business registration, tax collection and family residential registration.
Implementation of "one-stop-shop" policy had gained positive results and had been appreciated by people and businesses, the Prime Minister noted.
In an effort to perfect the apparatus of State administration in the last tenure, the Government focused on adjusting functions and responsibilities of administrative offices at all levels in accordance with requirements of State management in a market economy.
Fighting corruption and waste had been a major concern, especially since the Party Central Committee's resolution and Law on Anti-Corruption were introduced. The battles against corruption showed positive results as many serious corruption cases were discovered and prosecuted.
For the tasks of national defence, security, social order and safety, the Government had been completing the legal system for national defence and security.
The fight against crime had been expanded. Resettlement complaints were well addressed, too, helping maintain social and political stability and creating favourable conditions for development, raising Viet Nam's profile in the international arena.
Shortcomings
The Government also had been aware of weaknesses in instituting a market economy and issues such as a lack of competitiveness, which remain challenging, Dung said.
The State management had sometimes lagged behind the development of a market economy in areas such as regulation of real estate, finance, science and technology.
Moreover, administrative procedures for businesses had overlapped too much and been too complicated.
Attracting investment remained supine and disbursements of official development assistance (ODA) capital had been too slow.
Economic growth for the last five years was a far cry from the country's potential and lower than that of other regional countries in the first phases of industrialisation.
Productivity and per capita income had been a problem, too. Revenue for the State Budget depended too much on import taxes and oil exports.
Regulations on cultural and social management, and the mechanism for financing scientific research and environmental protection did not quite meet the demands of a market economy and international economic integration.
Environmental pollution remained a threat to sustainable development. Food safety still needed to be addressed more, Dung said.
In the report, Dung expressed his belief that the government of the next term would make the best use of the achievements in the last term and quickly address the shortcomings and weaknesses. — VNS
11th NA reviews missions, maps out plans for next 5-year tenure have 2306 words, post on vietnamnews.vn at March 21, 2007. This is cached page on Konitono.News. If you want remove this page, please contact us.