Parliamentary review of year used to plan for 2010 period
(19-10-2005)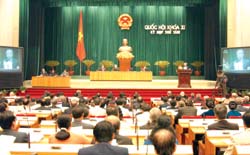 National Assembly Chairman Nguyen Van An delivers opening speech at the session. — VNA/VNS Photo Dung Sang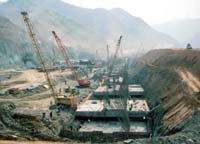 Son La Hydroelectric Power Plant on the Da River under construction in the northern mountainous province of Son La. — VNA/VNS Photo Xuan Truong
Nation expects record growth
Viet Nam this year expects to attain its highest growth rate during the past five years, Khai said in his report at the eight session of the National Assembly yesterday.
The collective economic sector has gradually overcome difficulties, and seen positive changes, while the private sector has attained impressive growth rates.
Trading and services have also made important contributions to the country's socio-economic achievements, to job generation and poverty reduction in particular.
The foreign-invested sector has reported satisfactory development, making more contributions to the country's economy. Meanwhile, 31 out of 64 provinces and cities nationwide have universalised junior secondary school education.
Epidemic prevention and poverty reduction have been well going on, which are appreciated by the international community.
On difficulties and challenges, the report mentions the low growth rate of the industry and construction sectors, the increased consumption price index, the fierce competitiveness from regional countries' exports and the low proportion of processed staples for export, which account for 49 per cent of the country's total export value.
Ha Noi — Parliament would focus on analysing what had happened this year so as to plan for next year and until 2010, National Assembly Chairman Nguyen Van An said when opening the end-of-the-year session in Ha Noi yesterday.
It would consider for approval of 14 draft laws, and review a report dealing with citizen complaints and denuncia-tions, and quiz ministers.
In addition, the legislators would receive a report about the implementation of policies for agriculture and rural development during the past five years and set the agenda for 2006.
The opening of this assembly's eighth meeting was attended by Viet Nam Communist Party General Secretary Nong Duc Manh, President Tran Duc Luong, Prime Minister Phan Van Khai and senior Party and Government officials.
The prime minister delivered the government's review of the 2005 plan and the socio-economic development plan for 2006.
He emphasised the importance of rapid and sustainable socio-economic development for Viet Nam to cross the threshold of a low-income country when talking about next year's tasks and the five-year-plan to 2010.
It would be necessary to give in-depth development special attention so as to create deep changes in the quality, effectiveness and competitiveness of the economy, he said.
Only then could Viet Nam maintain a high rate of development.
The prime minister also emphasised the importance of combining economic development with socio-cultural development that included environmental improvement and protection.
Thorough democracy, material strength, the intelligence of the people and the spirit of renewal were the factors that would help the country to quicker and more sustainable development, he said.
But the control of inflation was crucial to sustainable and high-quality economic growth.
The government was committed to continuing flexible but cautious financial and monetary policies that met the demands of economic growth and pledged to ensure that inflation matched the tempo of economic development.
It would try to regulate the market and prices by the adjustment of supply and demand for essential commodities.
However, enterprises and people should become used to a commercial environment in which prices may fluctuate at any time.
This would be particularly true as the country integrated more deeply with the world economy.
The prime minister said that the government would give low-income earners, especially wage earners and beneficiary recipients, due attention.
It would also initiate measures to boost exports, especially into markets where Viet Nam had an unfavourable trade balance.
A flexible foreign exchange policy would be introduced based on market principles to make the dong convertible and the economy self-reliant.
Viet Nam would also try to gradually reduce the budget deficit and make the best use of domestic and international loans.
Viet Nam was determined to enlarge its stock markets and list more joint stock companies, especially major corporations.
Viet Nam was building a strong financial system and intended to make the State Bank of Viet Nam into a Central Bank in accordance with international practise.
Viet Nam intended to encourage the development of the private sector and foreign direct investment as part of next year's plan and the five-year plan to 2010.
The assembly was scheduled to discuss and pass the Common Investment Law for both domestic and foreign investors at this session.
The new law would allow international investors into services sectors such as telecommunications, finance, banking, insurance and real estate.
On the stock market, foreigners would be allowed to hold up to 49 per cent of stock against the previous 30 per cent.
The government had vowed to put an end to mass, scattered and non co-ordinated investment that has caused major losses to the national economy.
It had also resolved to allow preferential investment in accord with the nature of projects regardless of ownership forms.
The prime minister said that the government would apply a step-by-step mode of investment and capital management through financial investment companies.
Parallel with eliminating the State subsidies, limiting and controlling monopolies, State-owned enterprises would undergo decentralisation and devolution, particularly in investment from accumulated capital or from capital mobilisation from the community and the stock market.
The government was determined to prevent waste and promote thrift.
Viet Nam would integrate more deeply with the world economy and was accelerating its negotiation of WTO membership and full integration into the ASEAN Freed Trade Areas (AFTA).
Viet Nam was also negotiating the free trade agreements with many regional countries together with other ASEAN members.
Bilateral agreements, especially those with major partners had presented the opportunity for Viet Nam to expand its markets and win more capital investment and technology for the country's development.
But there had been many challenges in a very fierce competitive environment.
All this required the State agencies and enterprises to take active part in international integration.
It also required the National Assembly to accelerate its law-making programme to complement the renewal and development of the country as well as regulations of the WTO. — VNS
Socio-economic development agenda for 2006
| | |
| --- | --- |
| Economy | Per cent |
| – GDP | 8 |
| – Agriculture, forestry, fisheries added value | 3.8 |
| – Industry, construction added value | 10.2 |
| – Service added value | 8 |
| – Export | 16.4 |
Social development:
Socio-economic development agenda for 2010
| | |
| --- | --- |
| Economy | Per cent |
| – GDP | 7.5-8 |
| – Agriculture | 3.0-3.2 |
| – Industry | 9.5-10.2 |
| – Service | 7.7-8.2 |
| – Export | 16 |
Social development
Environment
Parliamentary review of year used to plan for 2010 period have 1255 words, post on vietnamnews.vn at October 19, 2005. This is cached page on Konitono.News. If you want remove this page, please contact us.